Journey to the Council of Delegates
In the lead up to the 2022 Council of Delegates, a series of informal virtual workshops will be organized from January to May 2022.
The purpose of the workshops is to supplement the agenda of the Council of Delegates and lead exploratory discussion. Key elements of the workshops outcomes will be presented to the plenary meeting of the Council of Delegates and reflected in its summary record.

To facilitate participation of National Societies from different time zones, each workshop will run twice (identical sessions) with simultaneous interpretation to English, French, Spanish, Arabic and Russian.
 
Information on registration and virtual platform will be provided in due time. Stay tuned!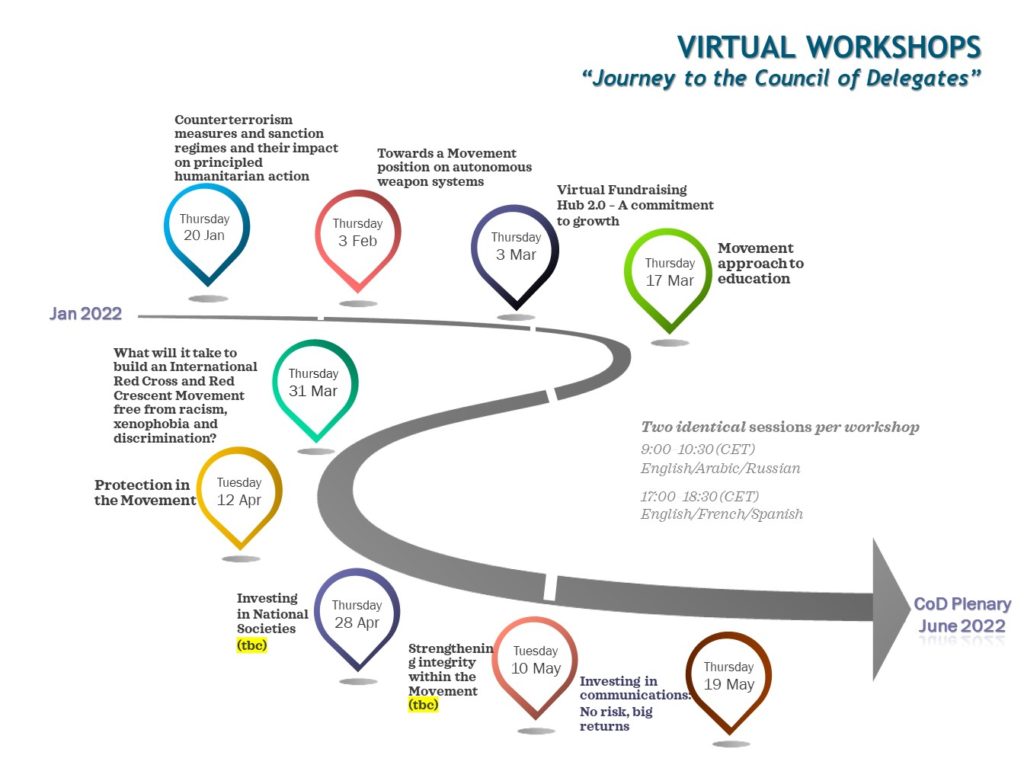 WHAT WE DO: Addressing global and local needs and vulnerabilities
Counter-terrorism & sanction regimes and their impact on principled humanitarian action

Towards a Movement position on autonomous weapon systems

Thursday, 3 February 2022
– outline

Movement Approach to Education

Thursday, 17 March 2022
– outline (available soon)
The title, angle and scope of this workshop are currently being reviewed by the ICRC and IFRC.

Protection in the Movement
HOW WE WORK: Accountability, transparency, unity and sustainability of the Movement
Virtual Fundraising Hub 2.0 – A commitment to growth

What will it take to build a Red Cross and Red Crescent Movement free from racism, xenophobia and discrimination

Investing in National Societies

Thursday, 28 April 2022 (TBC)
– outline (available soon)
The title, angle and scope of this workshop are currently being reviewed by the ICRC and IFRC.

Strengthening integrity within the Movement

Tuesday, 10 May 2022 (TBC)
– outline (available soon)
The title, angle and scope of this workshop are currently being reviewed by the ICRC and IFRC.

Investing in communications. No risk, big returns